Nachos
6 September 2021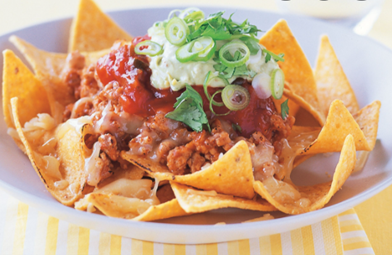 Nachos are a quick and easy way to get loads of vegetables into a meal. Have you tried vegetable nachos before by swapping out the meat for beans?The clean up is even a little easier as there are no sticky meat oils.
Serves 5-6
Ingredients
500g lean ground beef (for a vegetarian option use kidney and black beans)
1 tablespoon chilli powder
1 teaspoon ground cumin
1/2 teaspoon dried oregano
1/2 teaspoon garlic powder
1 tin crushed tomatoes
1/4 cup water
1 onion
Pinch of salt and pepper
1 tin kidney beans
½ cup corn kernels (frozen or tinned)
1 carrot grated
A handful of mushrooms chopped
Edam cheese grated
Corn chips
Directions
1) Add the beef to a large skillet over medium-high heat. Break the meat apart with a wooden spoon. Add onion.
2) Add the chili powder, cumin, oregano, garlic powder, and salt and pepper to the meat. Cook until the meat is well browned, about 6-8 minutes.
3) Add the chopped tomatoes, corn, grated carrot and mushrooms. Cook until tender.
4) Reduce the heat to medium. Add the water. Stir to combine. Cook for 7-8 minutes until thick. Remove from the heat.
5) Serve mince mixture with corn chips (or a wrap), and cheese on top! Serve with Greek yogurt for a healthier alternative to sour cream
* For the vegetarian option swap out the beans for the meat! It makes for quicker cooking and a lower cost!