A Story of Aspiring Leaders
16 December 2019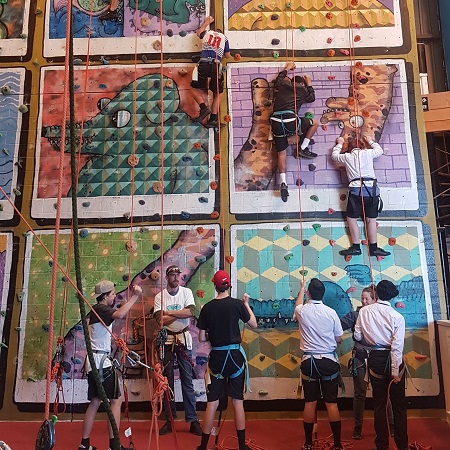 In sports we hear Cinderella stories of competitors who achieve far greater success than would have reasonably been expected. Usually these stories end not with a glass slipper, but a gold medal, world championship or new record.
We've got a different kind of story for you today. One about providing Rangatahi through sport and physical activity the opportunity to discover themselves, their worth, and what it means to contribute to have positive relationships and to be valued member of a community.
The tale below is the story of the Aspiring Leaders Programme, a Ministry of Youth Development-funded pilot programme at Mana College.
---
Once upon a time ... There were children from our most deprived communities skipping school, dropping out of sport and other physical activity opportunities, and engaging in anti-social behaviour out of boredom:
They didn't see the point because they were sure their paths are set.
They didn't think they have what it takes to step up.
They didn't have positive role models to inspire them.
They thought success is only about luck. "TJ Perenara just got lucky to get where he is," one such young person mentioned.
Every day … Rangatahi who are not provided with the same opportunities as others are falling behind simply because of their circumstances.
One day … The Ministry of Youth Development offered Sport Wellington the opportunity to set up a pilot programme with a small group of students from a local community. Our team looked into what was already happening in communities, connected with experts on how to best work with youth, developed a strong relationship with Mana College in Porirua, and identified 15 students we could bring together for two terms. The identified Rangatahi had not had any leadership experience before and were at risk of disengaging from physical activity.
Each week … the Rangitahi participated in different activities. They tried new skills and non-traditional sports such as ice-skating and rock climbing, and they played new games such as an Amazing Race and Survivor-themed obstacle course. They found a level playing field where they felt included.
"Normally I go home and my Aunty asks how was your day and I just say it was boring. But today I can say I did something," one participant said.
Because of the pilot … The students experienced opportunities they had never had before:
They were part of a group.
They were being heard.
They were being physically active together.
They were learning to respect others.
They were learning to respect themselves.
They were displaying leadership.
Throughout the term … The Rangatahi kept coming back, which was a huge win in itself. "To participate" was a goal identified by many of them at the start of the pilot:
They gave things a go.
They tried new things.
They built positive relationships with adults and their peers.
They felt that they belonged.
They supported each other.
Until finally … They built confidence and resilience.
By the end of the pilot ... The Rangatahi had learnt to trust themselves and work for what they want. They finished the year understanding how to work together and to pull each other up rather than down.
The Rangatahi learnt that they deserve success.