Active Maths – learning through movement
26 August 2021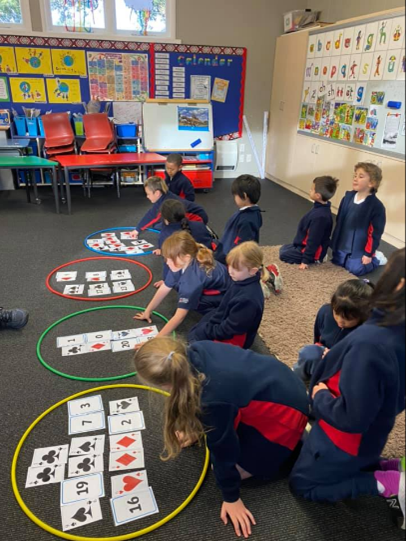 Our Healthy Active Learning Team provides support to schools to improve the wellbeing of tamariki through healthy eating, drinking and quality physical activity. This support looks different for each school they work with, taking a needs-based approach to build upon existing good practice.
One of the schools we have been working with recently is Miramar Christian School. We learnt they have been receiving support in the Physical Education space from Team Energize on speaking to the school. Together, we explored other ways to support the school by delivering quality physical activity experiences in combination with their usual curriculum. The teachers expressed an interest in integrating Maths and P.E.
Our Healthy Active Learning Advisor, Zak ran a professional development session to share some ideas; we then modelled some of the exercises with the tamariki. The junior class focused on addition, subtraction and number sequences, whilst the senior class used statistics and data collection – they did this through movement, playing games and sharing back to the class.
The teachers at Miramar Christian School have bought Active Maths to life and explored where else they could apply this form of learning. After just a few lessons, the Kowhai (junior) teacher noticed how students remembered their number sequences better and how engaged the tamariki have been in their learning.
"Ever since you shared some ideas with us, we have done heaps of physical activity as part of our learning!" Betsy Anderson – Kowhai Teacher.
To help integrate this practice into the school, our team modelled two sessions, and the third session was team-taught. Our Advisor delivered the warm-up activity, and the Miramar Christian School teacher delivered the lesson. The school has used our Google Drive Resource Platform, which has a folder specifically dedicated to Active Maths resources, view the Google Drive here.
The next step to make sure these actions are sustainable is to use one of the Teacher Release days to identify further opportunities for Maths and P.E. integration and co-plan some more Active Maths lessons before the end of the year.
A key learning for us here is that integrating physical activity and core subjects is possible, and this could be applied to Literacy and all Healthy Active Learning schools.
To support insights and evaluation of Active Maths, our team are exploring how we could track and show any accelerated learning that may happen through this practice. We will share any insights gathered should we take this approach to future schools.