Coach Developer Programme expands regionally
29 April 2019
In early April, Sport NZ held the inaugural Central Region Coach Developer Residential Workshop in Palmerston North. This three-day workshop was the first time Sport NZ have taken their Coach Developer course regionally. 13 coach developers from the sport and recreation sector in the central region attended the residential course that was facilitated by four trainers.
---
Coach development is a core activity in an effective coaching system. The Coach Developer programme is built around the belief that educating and supporting those who work with coaches (Coach Developers) will, in turn, develop better coaches who will improve the participant experience.
Participants of the two-day workshop were nominated to attend by their National or Regional Sporting Organization, or Regional Sporting Trust. These people are actively working alongside coaches, supporting them in their learning and development, often in a 1:1 capacity and/or facilitating workshops, and creating effective learning environments for coaches to grow.
"It was a thoroughly valuable experience in all manner of ways," said Maria Hegarty, Netball Development Officer at Netball Wellington Centre. "Highly engaging content led by knowledgeable and supportive trainers who took the time to tap into various learning styles while expanding upon the knowledge in the room and inspiring self-reflection."
Participants, such as Maria, spent two days exploring Coach Developer mental models, developing their questioning and coach-observation skills, presenting, and diving deep into feedback and how to give it.
Maria said her key takeaways included "the impact of icebreakers and energizers, the awesome power of the pause; learning to be comfortable feeling uncomfortable; and the importance of enabling reflection through clever questioning – active listening along with a little patience generates more meaningful understanding."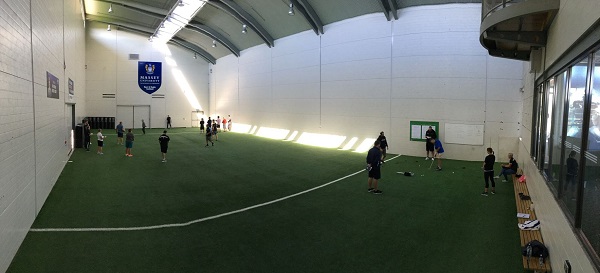 In the coach developer environment, accurate and effective observational skills are critical. It's important to remember that everyone brings their own lens to a situation, making it easy to form assumptions based on a perception. Effective observational skills require someone to arrive at the situation prepared, to be non-judgmental, and to remain targeted towards a coach-led objective.
"The course was a great environment to connect with other like-minded people working to support coaches to be the best they can be," said Cam Durno, Sport Wellington Performance Hub Advisor. "The information, tools, and tactics were new and innovative, and I am looking forward to implementing these into my current practices."
In his work for the Performance Hub at Sport Wellington, Cam works one-on-one with coaches on the Performance Coach Advance programme, as well as with high school coaches in Sport NZ's Coaching for Character pilot programme.
Another key role within a coaching system is the Trainer. Just as the Coach Developers work with Coaches to improve their coaching knowledge and skills, Trainers work with Coach Developers to grow their coach developer knowledge and skills.
"The purpose of our trainer role at the workshop is to create a great learning environment for the Coach Developers that is aligned to the workshop's learning outcomes," said Tim Mannix, Community Coach Advisor at Sport Wellington.
Tim joined the Sport Wellington team permanently in March and is leading the implementation of the Coach Developer programme in the Wellington region, alongside Sport NZ. As a Trainer, Tim was part of the trainer group that was responsible for helping design the workshop, creating an effective learning environment, and regularly reflecting and reviewing how the Coach Developers were progressing over the workshop.
Trainers play an integral role in the Coach Developer process, conceptualizing, implementing, and evaluating Coach Developer Training Programmes, such as this recent residential workshop.
In the coming months, Sport Wellington will be running further Coach Developer training sessions, as well as running a regional Coach Developer workshop in August. For more information, contact Tim Mannix at timm@sportwellington.org.nz.
For more information on Coach Development: