Ekenasio tells athletes to 'find what's authentic for you' at scholarship celebration
23 August 2019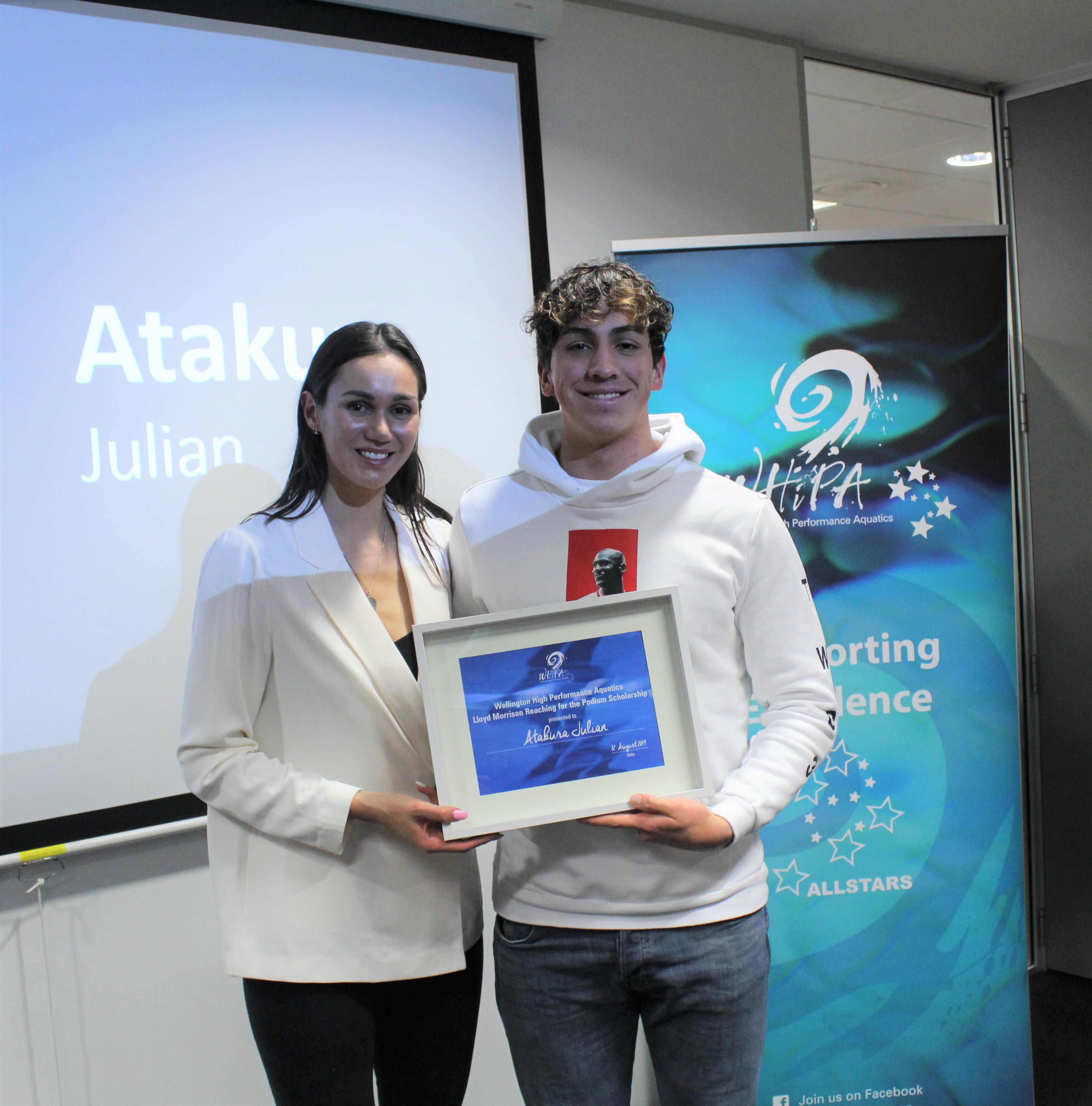 Looking back now, Ameliaranne Ekenasio says the biggest thing that helped her on her journey when she was younger was developing a really good training attitude; and, a good attitude towards life.
"I always wanted to be involved in everything, and training was fun – sometimes it was a bit mundane and sometimes I didn't like going to training that much, but the more I used those days where I didn't want to go to training and I pretended that I was (enjoying it) the better training was and the more I got out of it," she told an enthralled audience at the Wellington High Performance Aquatics Scholarship Athletes Celebration on Tuesday 13 August.
The World Cup-winning Silver Fern was the guest speaker at the event which celebrated four new recipients of the Lloyd Morrison Reaching for the Podium Scholarship. The scholarships, funded by Wellington High Performance Aquatics (WHiPA) and managed by the Sport Wellington Performance Hub, are for two years and focus on the development of self to assist the athletes to realise their performance potential.
"You pick up all sorts of skills like perseverance, resilience, all those kind of things the more you stay in sport…they're the kind of skills you grow and that get stronger the more you go along," Ekenasio said.
"I think the attitude one – having a really positive attitude, that's one that you just start and it's like a fire. So if you can start practicing it every day then it becomes a habit and I think that's something really cool, because your attitude is something that introduces you before you start to speak, or introduce yourself, and it's the biggest thing that people can notice from the sideline, it's just something that you see."
Ekenasio's key advice to the athletes was clear.
"I think what's really important is you start your journey now to find what's authentic for you. What it really means to be yourself, and then stay true to it. What are your values? What do you absolutely love?"
Knowing your values means that as you develop as an athlete and as a person, you'll be one person, she said.
"You don't have to be a different person as an athlete, and a different person in real life – the two marry no matter what," she explained. "As long as you're true to your values you'll be able to surround yourself with really good people."
As well as encouraging the athletes to try as many things as they can, Ekenasio shared what the past 18 months have been like – bouncing from the low of the Commonwealth Games up to the Gold Medal spot on the podium at the World Champs.
"The Commonwealth Games definitely was like a knife in the heart really, it still hurts quite a bit because I think the biggest thing for us was the pride. The pride in wearing the fern, and all that kind of stuff and that felt a bit like we hadn't worn it proudly. So that was definitely one of the lowest points in my career so far, which is really hard to come back from actually," she said.
It took a while for her to separate herself from the loss and take in what happened and why it happened, but she said taking time to reflect was important because it allowed her to "bundle it all together, and put it in this basket of what I never wanted to do again."
"The biggest thing that I've learnt from there, was that you actually can completely turn it around in a short amount of time which is really cool," Ekenasio said. "And a lot of people didn't believe in us going into World Champs, which was fine because we didn't even know 100% where we were either, but we were putting the work in day and night. And we had this feeling within our team and within ourselves as well that we were growing.
We had a direction, we knew where we were going, and it was very clear."
For the athletes in the room, many of whom are constantly judged on outcomes – time trials, personal bests, race performances – it was important to hear about the process-based approach the Ferns took over the last year and a half.
"We couldn't be so outcome-focused, because if we only talked about 'We want to go and win the World Cup' we probably would have missed the tiny little 1-percenter's along the way. All we focused on every single day was 'What's our one percent for this day, what's our one percent that's going to get us better for tomorrow?'"
The new scholarship recipients; Sam Brown, Atakura Julian, Chelsey Edwards, and Jenna Rolston-Larking – all from Capital Swim Club – are currently undergoing comprehensive medical screening from Wellington Sports Med, the first component of the scholarship programme.
They will then complete Individual Performance Plans, work one-on-one with character development advisors, attend workshops, and connect with specialist support over the next two years to help them become high performing people.
"The programme aims to help the athletes understand the importance of foundation principles and the impact these have on them realising their future potential," said Mark Watson, Sport Development Lead at Sport Wellington. "Health and well-being and character development play an equal role, along with the athlete's physical development. It is these foundations principles that will help an athlete to achieve their performance potential and keep them at the level they aspire to."
Also at the event were athletes in their second year / associated to the programme, including FINA World Championship Bronze medal winner Lewis Clareburt.
An application round for Sport Wellington Athlete Development scholarships for 10 new athletes from any sport will be opening soon. These athletes will join WHiPA Scholarship recipients on the Athlete Development Programme.
Find out more about the scholarship programme and how to apply