Inspiring Play in Lockdown - Encouraging play for primary-aged kids
1 September 2021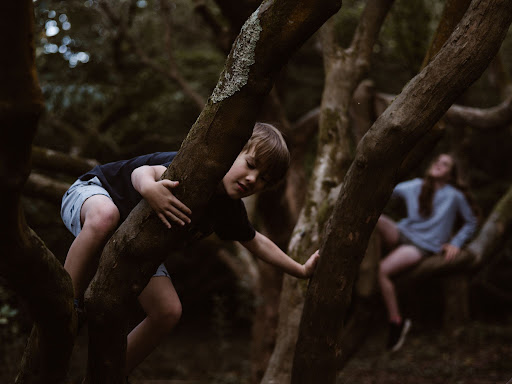 School-aged kids could be dubbed the 'best-players'. During the ages of 5-12 years, often children have become a lot more independent, curious, and, in the right circumstances, can occupy themselves for hours through play.
One of the key things we adults should remember with young children is their best play memories will likely be the ones without us - the times they are playing blissfully without adult input, restrictions or guidance. Can you remember yours?
Child-led, adult-free play is the ultimate opportunity to experience risk and challenge. This is where the magic happens. Children learn to trust and challenge themselves, discover risk and reward, and practice using their senses, their own instinct and 'gut feelings'. It's safe to say that play is one of the best ways for our kids to learn. So while you're challenging yourself to balance screen time, school work, exercise and chores - spare a thought for the power of play. Real, adult-free, fun, play.
Here are the top reasons to encourage child's-play this lockdown, according to our parent peers:
1.Play is good for adult/child relationships.
Slowing down, switching off, and being present with your children can be a healthy reward for us too. Although sometimes harder in practice, it's important to understand that sometimes a child may need an idea or some adult attention to get going. This could be all they need to set them up playing happily for a while.
"I found what worked for our boys [5 & 7] was spending some quality time with them in the morning, giving them my attention straight away gave us a really secure start. They knew where I'd be, but were able to occupy themselves for quite a while. This really helped me connect with them, then relax into my work."
Why not try these lego challenges, which are great play starters for adults and kids?
2.Play is great for wellbeing
.
Encouraging children to take a 'play-time out' is a good way to encourage a 'breather', both physically and mentally. Play gives kids the tools they need for coping and resilience in a rapidly changing world, building their social and emotional intelligence. Getting creative, laughing, singing, dancing, blowing things, and short bursts of intense movement are all great ways for kids to blow off some steam and regulate their nervous system, reducing anxiety and stress (adults too, right?).
"One of my worst experiences of being in lockdown, was not feeling like I was doing enough of the right things for my family. Getting outside and playing, all together, everyday was an excellent remedy for my own negative feelings".
Keen for some quiet alone time? Check out these mindful resources from Pause, Breathe, Smile NZ.
3. Not all kids are self-starters.
Some children may need a little nudge to help them get started with an activity, the same can be said for play. To help encourage play, you could try playing with your kids initially, sharing an example or showing them, which may give them the confidence to continue playing on their own. Allow them space to explore and grow their play. Remember the times you've helped them with something fun to begin with and it's ended in something playfully different?
"One of the most successful activities was making costumes out of random things around the house. We had a 'Covid doctor specialist', which was hours of medical play curing ailments and 'ambulancing' around, and we also made a robot costume which inspired a bit of robot play."
Here are a bunch of things to do outside, which can evolve into child-led play for hours. 40 Ka Pai things to do outside - 5 Ways to Wellbeing and Wild-Eyes Nature challenges are some favourites.
4. Play supports a sense of agency.
Unstructured play—where adults avoid giving instructions—helps children take control of their own actions and decisions. It can be a challenge at first, but try giving less instructions - or none at all! We can remove limitations by saying 'yes', 'why not?', 'what do you think?', or 'how could you…', when asked for input during play.
"I find the most rewarding type of play for my boys (aged 5 & 7) is when they are working together to find solutions, challenge each other and assess risks. They've just started playing on the street on their own, it's such a great way for them to be independent."
Dramatic play with the family is a great way to encourage child-led play, and encourage agency and decision making. Here are some ideas.
Here are a few handy websites to check out for your tamariki:
This is the second in a three-part series on inspiring play in lockdown developed in partnership with Wellington City Council. View the other parts here:
Part 1: Sustaining play for preschoolers
Part 3: Motivating play for teenagers
Nuku Ora is the Wellington Regional Sports Trust. Our role across the wider Wellington region is advocating, supporting and growing emphasis on ensuring that play is an everyday part of children's lives to ensure that the benefits accrued from a playful childhood are not lost to reducing levels of free time for both adults and children.
Wellington City Council is the territorial authority for Wellington City, and is committed to promoting and advocating for play for tamariki and rangatahi throughout the city.
Both organisations aim to promote the importance of play, engage tamariki in a diverse range of play experiences and opportunities, connect whānau to safe places and space to play and enable parents and caregivers to play more, every day!