Fundamental Movement Skills Festival
18 May 2021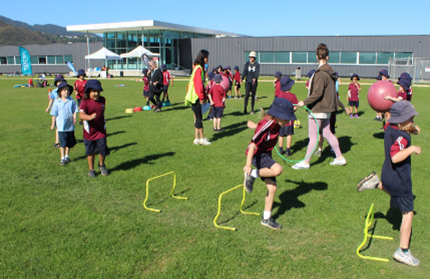 It was a glorious day of fun in the sun at the Lower Hutt Primary Schools FMS festival on Wednesday 7th April. Around 700 students in Years 1-4 participated in this new event focusing on a quality experience for all tamariki.
Our Healthy Active Learning team played a key role in this event, planning and delivering many of the activities that were part of a resource booklet sent out to teachers prior to the event. With sustainability in mind, teachers and students could experience some of the FMS activities in-school prior to the festival, and then apply the progressions to each activity post-event when back in their respective schools.
Many local physical activity providers kindly gave up their time to showcase their programs alongside our Nuku Ora staff on the day. A big thank you goes out to Hutt City Council and LHPSSA for their continued efforts with the planning and organisation of these participation-based events. This festival is a great example of how organisations working collaboratively can deliver great outcomes for tamariki.

Here is a small sample of the positive reviews that were received about the festival:
"Thank you SO much for a wonderful morning of activities for our little juniors. They LOVED it! The teachers and parent helpers with us all commented on how very well run and organised the event was. The teachers have upskilled and now have some great ideas for class PE lessons too." – Teacher
"I just wanted to pass on to you that we have had some great feedback from the students and parent help from the Fundamentals Day. The activities were fun and engaging, and purposeful for kids of that age, especially the Yr 1/2s. We really hope it's available again next year :) Thanks heaps." – Sports Co-ordinator
"Absolutely loved interacting with the tamariki! Just having fun and sharing some time with the babies and their teachers. SO COOL! We hoped they had a bit of fun with us and enjoyed their day away from kura. Ngā mihi! ;)" – Activity Provider - Kokiri Marae

From the student responses collected, 93.3% reported that they had fun at the Fundamental Movement Skills Festival, whilst 69% stated that they had learnt something new on the day. Having fun and learning new skills are two of the main reasons why children engage in physical activity, so it was great to gather their feedback, which will be used when planning the event for 2022.