Inspiring play in Lockdown - Sustaining play for preschoolers
1 September 2021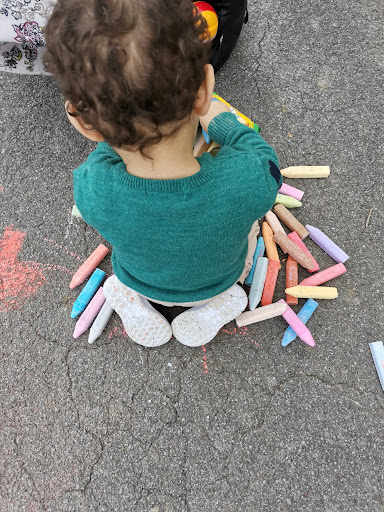 Play is an essential part of childhood development, and we recognise, it's also crucial to the survival of parents during a global pandemic. To support families and young people through Lockdown 2021, we've compiled, in partnership with Wellington City Council, a collection of articles and resources to support you and your whānau to get active together through play.
We asked 40 local families to share their secrets to healthy, fun, child-led play for under 5's, during a global pandemic lockdown. Advice ranged depending on where people lived, the weather, the ages of each of their children and the tools they had, however there were common themes around play for this age group.
This is the first of a three part series on Inspiring Play in Lockdown.
1. Kids will play naturally (given the time, space, and permission)
.
Play is innate and the urge to play is strongest in young children. The most important thing for us [adults] to remember, is to ensure children have fun, laugh, explore, and enjoy the experience. A positive experience, which is led by the child, will always have them coming back for more. Allowing the time, appropriate spaces and giving permission and support, are essential ingredients for play.
"Doing things outside and getting active were the most popular with my son (3). Letting him choose the play, but helping him with ideas, was a great way to do it. It was a great time to discover new places and ways to pass the time."
Read more about why time for play is so important.
2. Explore new environments.
Variety is the spice of life! The same can be said for the spaces in which we allow our kids to play. Getting outdoors to play in a new space is a sensory wonderland for a baby, or what about climbing a new tree for an older toddler? Painting rocks, making natural musical instruments, and exploring the taiao or neighbourhood walkways are all ways our fellow parents inspire more nature and sensory play.
"We did a lot of child-led walks, which meant not much actual 'walking' but a lot of finding rocks to throw down drains, running up and down grassy banks, climbing up steps and jumping down, hiding behind trees and bushes."
Check out the Wellington City Council website for ideas for playground-free play.
3
.

Kids design play, parents enable it.

For this reason, think about the types of play your child engages in. What types of play do they not do much of? As adults, it's our role to encourage a wide-variety of different types of play, from messy play, sporty play, to adventurous play.
"I want [the play] to be more led by them, and [I want to] stop saying 'no' quite as much."
This sometimes requires us to think of the environment and set-up first:
Try setting up a play-area at the start of play. E.g. If your tamariki are regularly playing LEGO, how about getting them to try building with other materials, such as cardboard, wood or spaghetti?

What loose parts do you have around the home which can be reused by a child for junk play?

What new area of your neighbourhood can you visit today?

Can you learn any pūrākau or local narratives that can be retold or expressed through play?

Have your child tell you a story and help them to recreate it.
Here are a few handy websites to check out for your tamariki:
This is the first in a three-part series on Inspiring Play in Lockdown developed in partnership with Wellington City Council. View the other parts here:
Part Two: Encouraging play for primary-aged kids
Part Three: Motivating play for teenagers
Nuku Ora is the Wellington Regional Sports Trust. Our role across the wider Wellington region is advocating, supporting and growing emphasis on ensuring that play is an everyday part of children's lives to ensure that the benefits accrued from a playful childhood are not lost to reducing levels of free time for both adults and children.
Wellington City Council is the territorial authority for Wellington City, and is committed to promoting and advocating for play for tamariki and rangatahi throughout the city.
Both organisations aim to promote the importance of play, engage tamariki in a diverse range of play experiences and opportunities, connect whānau to safe places and space to play and enable parents and caregivers to play more, every day!