Pickleball: a popular sport you might not have heard of
9 September 2019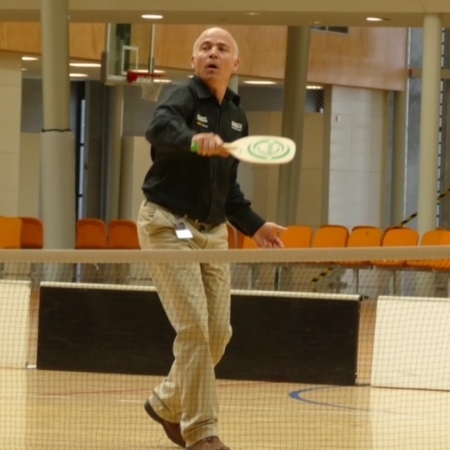 Pickleball is one of the fastest growing sports among older adults in New Zealand – and will be available for people to try at the Senior Regional Games being held on 1 October 2019 in Lower Hutt.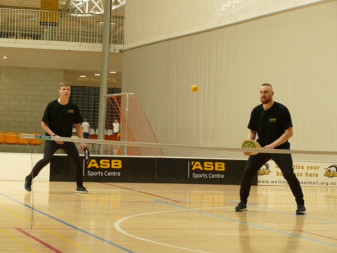 The all-inclusive sport is a combination of tennis, badminton and ping-pong. 'Picklers' play on a badminton double sized court using paddles and a wiffle ball (a plastic hollow ball with holes). As the court size is smaller than a tennis court and the net hung lower than a traditional tennis net, the sport is perfect for those with reduced mobility, those recovering from injuries or for playing with different ages, heights and abilities. Although the sport is popular with older adults, the rules can mean a fast paced, fun and rallying game.
Will Dewhirst, Regional Coordinator at the ASB Sport Centre, encourages all ages to give Pickleball a go. "This sport is unique because an 8-year-old can play against an 80-year-old and it can be a close game. The main form of the game is 2 vs 2 which adds to the social/teamwork aspect within the sport, unlike most other racquet sports where the main form is singles. I encourage you to come and try it. It's a sport that the whole family can enjoy, socially or competitively."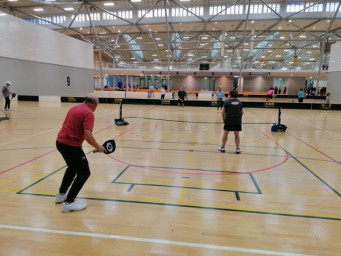 The sport originated in the USA in 1965, gaining its unique name from the term 'pickle crew'. A 'pickle crew' was not a crew of pickle eaters, but an American rowing term meaning a crew consisting of the rower's left over once everyone else had been selected for a crew.
The game first appeared in New Zealand in 2016 in Rotorua. There are now 34 locations around New Zealand where you can take part in the sport. In the Wellington Region there are two Pickleball locations:
Hutt Valley Pickleball Club, Badminton Hutt Valley
25 Vogel Street, Naenae
Thursday's 9.30am – 11am
ASB Sport Centre
72 Kemp Street
Kilbirnie
Friday's 4.30pm – 7.30pm and Saturday's 5.30pm – 7.30pm
"We firmly believe playing Pickleball provides you with enjoyment, excitement, camaraderie, laughter and gentle exercise. The sooner we get more Kiwis playing it, the better!" says Pickleball New Zealand.
If you would like to come and support your local picklers, or try out the sport for yourself, head along to the Senior Regional games on Tuesday 1st October from 9.30am until 2pm at the Lower Hutt Events Centre, 45 Laings Road.
Find out more about the Senior Regional games
For more information about Pickleball visit www.pickleball.org.nz or download the flyer.