Randwick School Paralympics Day
15 November 2021
It was amazing to see the Olympic and Paralympic Games finally go ahead in Tokyo this year. After much uncertainty and a 12-month delay, the athletes were able to compete in the events they had trained so hard for over the past few years.
Randwick School organised their very own Paralympic event, to celebrate inclusion and diversity; and to acknowledge the positive values that physical activity can teach our young people.
Our Healthy Active Learning team were on hand to support with any ideas around planning such an event, to suggest activities that could be well suited to the Paralympic games and values; and to connect the school with local disability sports organisations for some expert assistance if needed.
However, Randwick School had it all under control! That is because Y4/5 teacher and Health PE Lead, Sally Anderson, had already organised a "values day" earlier in the year, which involved a variety of activities, each focusing on a different Randwick School value.
"The values day received lots of positive feedback from Kaiako, whānau and most importantly our ākonga, so we thought that this Paralympic event would work well if it was organised in a similar way".
The event was organised into eight activities that covered the values of kindness, love of learning, responsibility, relationships, communication, identity, can-do-attitude and confidence. The activities also gave the students an opportunity to experience some of the physical impairments that Paralympians compete with - including visual, hearing and loss of limbs.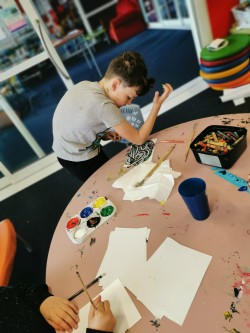 Students were split into their house teams and were given a score by kaiako at each activity, based on how well they displayed the matched value. House points were awarded at the end of the event to the top three teams that were judged to have demonstrated the "Randwick School/Olympic Spirit" the most.
Here is what some of the students and staff had to say about the Paralympics Day...
"I loved the challenge of doing things in a difficult way!" Student
"It was great to learn how other people work" Student
"Getting kids to appreciate disability and inclusion was the highlight for me" Teacher
This is a great example of how to explicitly focus on your school values within a fun learning context. Students at Randwick School are well aware of "The Randwick Way" and model this consistently, with positive reinforcement coming regularly from the teachers. The Year 7/8 students were encouraged to demonstrate their leadership skills, taking care of their younger team-mates.
By using the Olympic/Paralympic Games as a focus, it opens the door to a vast range of inquiry-based learning opportunities, which can be found on the Olympic Values Education Programme website.
Check out the video highlights of the day via this link.