Seminar Series explores the different paths to success
26 July 2019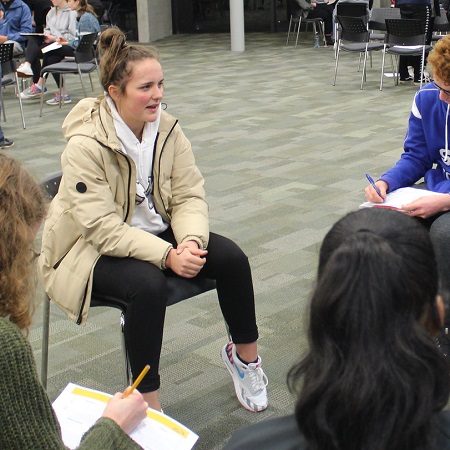 The road to success is windy and different for everyone who walks it. When it comes to talent development and athlete pathways, there's no one magic cookie cutter method that will guarantee a spot on that Olympic podium.
To share this message and inspire today's young, emerging athletes to embrace their own path, the Sport Wellington Performance Hub brought in six athletes of significance and asked them to share their stories at the fourth installment of the Seminar Series for the Wellington City Council Talent Development Programme.
The featured athletes all had different stories to share and no two journeys were alike, but some of their key messages were the same: Success, in sport and life, takes resilience, hard work, a strong support network, a good attitude, and a willingness to embrace vulnerability.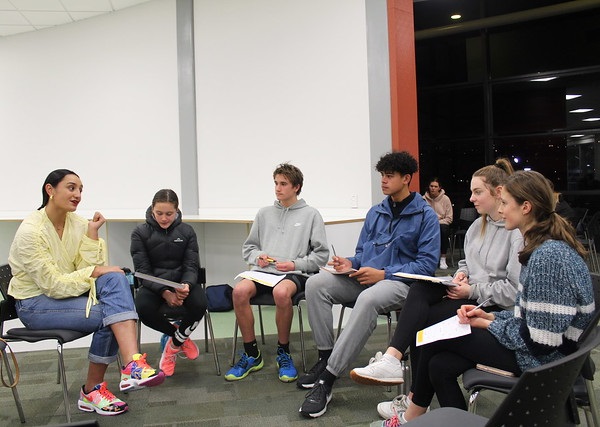 Sport is so up and down, sometimes you're going to do really well and other times you're not going to do so well it's good to have a balance on interests that make you happy. I'm at university, I play guitar, so when cricket's not going well for me I have other things in my life that make me happy rather than that sport just consuming my life.
- Amelia Kerr, White Ferns
Lewis Clareburt, New Zealand swimmer and bronze medalist at the 2018 Commonwealth Games, talked about the moment he got the call up to attend the games, after not initially being named in the squad.
Bella Anastasiou, New Zealand handballer, asked the talent development athletes to look inside themselves and find their why. Why do they do what they do? Why do they play sport? Once you know your why, everything else is easy she said.
James Blackwell, Hurricanes and Wellington Lions rugby player, talked about what it's like practicing alongside NZ rugby legends and how he initially limited himself because he was afraid of messing up, of failing and embarrassing himself. He said overcoming this fear and committing to putting in the extra work to get better was crucial in improving his performance.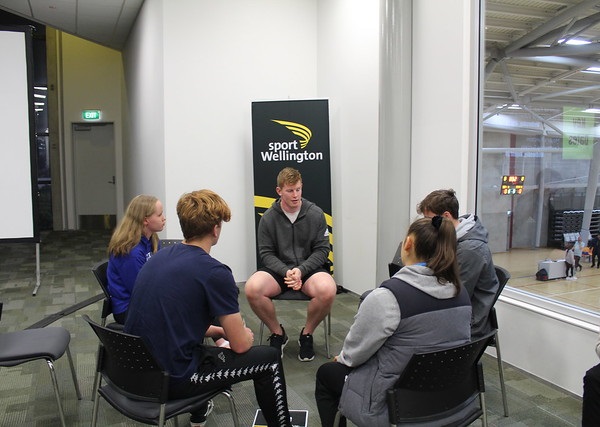 Kate Mcllroy shared how she bounced back (repeatedly) after injuries prevented her from being able to compete in her chosen code.
Amelia Kerr, New Zealand cricketer and youngest player to ever score a double century in a One Day International cricket match, reminisced on the diary she kept when she was young, telling the attentive athletes gathered round her that one day she just decided that she was going to be a White Fern. She wrote that goal in her diary, committed to training as hard as she could, and managed to achieve this goal when she was 16.
And finally Tiana Metuarau, Championship-winning Pulse member, emphasized the importance of time management; sharing how she learned the value of this the hard way, and told the athletes to make the most out of being in high school, playing with friends and to enjoy all the opportunities they are presented with.
"When we talked to James he said that … he always tried not to get perfect but to get better so that he can help his team-mates," said Mollie Nicol, Central Rowing Talent Development Programme athlete. "And how he struggled with being a short player, but instead of saying 'what can I do to be taller?' saying 'how can I be a smarter player?' to help me get to where I want to be."
Over 50 WCC Talent Development Athletes were split into 8 groups during the seminar and moved through a circuit of six featured athletes, a photo booth, and a mind game to create a dynamic and engaging learning environment.
The next seminar will look at The Psychology of Vulnerability, in-keeping with the broader theme for the 2019 Seminar Series.