The End of the Start of Our Leadership Journey: Wahine Toa Women in Sport Leadership 2019
16 December 2019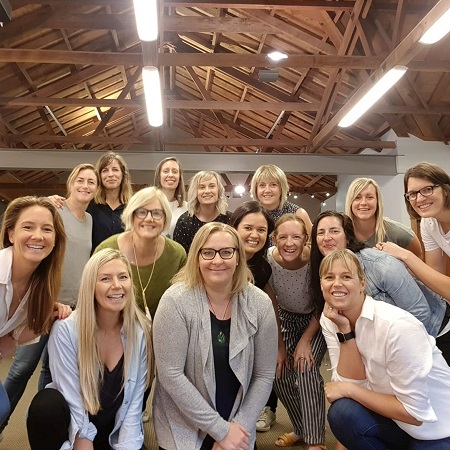 Over the past six months, 14 women from New Zealand's Sport and Recreation Sector have completed Sport NZ's Women in Leadership programme. The group navigated their way through the Leadership Framework through laughter, shared experiences, vulnerability and strength, led by an amazing facilitator, Annie Kennedy.
"I have so many amazing confidence-building voices in my head now" said Kelly Curr, Regional Sport Development Consultant - Central, Sport NZ.
On the last day of the programme, Annie reflected that "Something I noticed was the realisation by the group to take to time to stop, notice and reflect."
"Value connection with peers from across the sector to support one other, to be heard and to share and support others," Annie said. "Continue to support one another and be deliberate to influence in our own circles."
He waka eke noa is a whakataukī that rung true for this group; who noted how important it is to surround themselves with a supportive, trusting network as they move through a similar sector, similar environments and face similar changes and challenges all together.
"An unexpected learning from this programme was how much we all had in common and how supportive and collaborative the group was" said Jodie Brunger, Community Sport Manager Sport Whanganui.
The network of women have learnt that there is great potential and power in making strong genuine connections; and how important building trust and setting up a safe environment is to achieve that.
"Even though we were a Women in Leadership group, a lot of the issues discussed weren't gender based," Jodie said. As Annie would say 'It is about noticing'.
Navigating complexity, challenging the narratives and looking into the future are a few examples of the many discussions the group tackled.
"These current initiatives, if they're working, diversity and inclusion will naturally happen. If the strategies are effective in the short term, then we won't need quotas in the long term," said Megan Crockett, National Player Welfare Manager at NZ Football, about Sport NZ's recently-introduced gender-quota for boards. "Ultimately there would more women in leadership, and therefore there would be no need for 'Women in Leadership' groups."
Although the programme may have concluded, the group are adamant this was just the start of their journey.
"What I'll take away from this experience is the strength of kindness that this group genuinely displayed. Staying true to yourself and your values is so important," said Amanda Taylor, Young Persons – Lead, Sport Wellington. "I am now a lot more aware of my strengths and will draw on them to further influence and advocate."
A quote shared on the last day particularly stuck with her: 'Fill your own cup and share the overflow with others,' that was shared by Emily Davidson - New Zealand Golf Auckland and Northland Regional Support Manager.
To support your own leadership journey, you can explore Puna; the NZ Sport and Recreation Sector's spring of resources.
Poipoia te kakano kia puawai (Nurture the seed, and it will blossom)