Annual Report 2021/22
Over the past 12 months, our communities have remained at the centre of what we do, as we adjusted our delivery approaches to meet our communities physical activity and wellbeing needs. The 2021 2022 financial year also saw the ongoing development of meaningful relationships with like-minded people and organisations, which built local collaboration as we reach the end of our second year operating under Strategy 2032.
Annual Report 2020/21
While the development of a new brand required significant time and internal reflection, integral to our approach was a focus on collaboration and partnership. Our goal was not just to find a name that better enables the work we do, but to build an identity that reflects our region, and the role physical activity plays within it.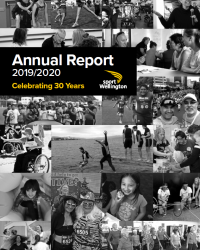 Annual Report 2019/20
This year marks a big year as we celebrate 30 years since our original Trust Deed was signed. As an organisation, we have accomplished a lot and come a long way in the past three decades. It has been a year of transformation as we responded to COVID-19, redesigned our Green Prescription service model, and confirmed our new 12-year strategy. Highlights of the year include the introduction of Healthy Active Learning, the inaugural Senior Regional Games, and Wellington Round the Bays winning Most Sustainable Business Project at the Keep NZ Beautiful Awards.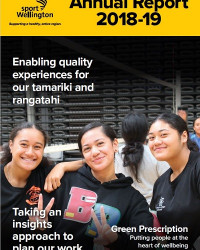 Annual Report 2018/19
This year through partnerships and collaboration we have collectively been working towards reducing the barriers to participation in sport, active recreation and physical activity. Some of our significant achievements in 2018/19 include the development of the Spaces and Places plan for the region, the delivery of the health contracts we have with our DHBs, ongoing steps in implementing the Leadership Framework, and support to the regional sport and recreation organisations through capability building initiatives. With our current strategy ending in June 2020, we have started developing our strategy to take us through to 2024 and beyond.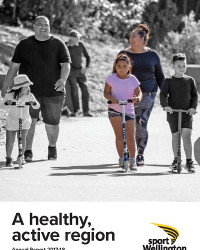 Annual Report 2017/18
Our key focus this year has been encouraging our communities to be physically active and supporting them through initiatives like the Green Prescription programmes and locally-led delivery. We became the Lead agency for Community Strength and Balance for the greater Wellington region and launched the Leadership Framework for Sport and Recreation in Aotearoa New Zealand. We were very proud to be awarded the Women in Governance 'Organisation of the Year' award.
51 full/part-time employees.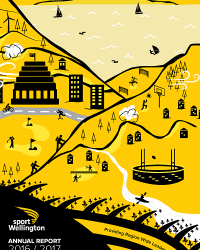 Annual Report 2016/17
This year we expanded the Healthy Lifestyles Team, with more staff focused on improving health and physical activity outcomes for targeted groups in our region. We celebrated 40 years of organising the iconic Wellington Round the Bays event, adopted the Living Well (Wellington Regional Sport and Active Recreation Strategy) and focused on locally-led delivery, putting participants and communities at the start of decision-making processes. We achieved the Sport NZ 'Good Governance' QualMark and won the Women in Governance 'Governance Innovation by a not-for-profit' award.
44 full/part-time employees.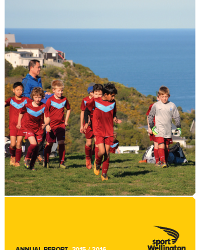 Annual Report 2015/16
Knowledge management and insights have become a priority to ensure evidence-based policies are developed and implemented. Development of the Wellington Regional Sport and Active Recreation Strategy with councils, sport and rec organisations and stakeholders is underway. Key areas of focus are; building capability to support the local sporting system, introduction to Physical Literacy, and getting Sport Wellington's 'back of house' in order - system building, health and safety, our sustainability.
37 full/part-time employees.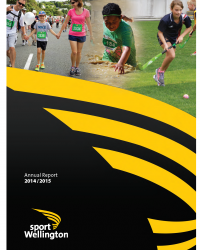 Annual Report 2014/15
This year our focus has been on implementing a Community Sport strategy that is aligned with the new Sport NZ Community Sport Plan, development of the Sport Wellington Performance Hub, and implementing a project to enable the development of our volunteer workforce. We have also been increasing our knowledge of the region and how to reduce barriers to participation. Our Active Families team have had a significant and positive impact in low socioeconomic areas and targeted groups.
37 full/part-time employees.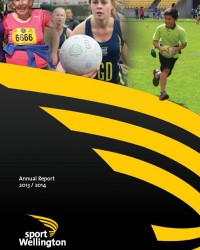 Annual Report 2013/14
This year we transitioned to our new strategic plan 2014-2020 with a focus on 'Get Involved'. We're supporting 10 targeted sports, focusing on fundamental movement skills for early childhood-intermediate, commencing the implementation of a Community Sport Strategy, and development of a Regional Framework to guide the development of community sport and active rec.. Winners of the 2014 NZ Sport & Rec 'Communication' award, finalists Wellington Airport Community Awards 'Sport and Leisure' and Vibrant Gold finalist Wellington Gold Awards.
33 full/part-time employees.